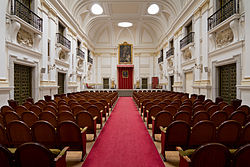 Carlos Mena, countertenor, and Iñaki Alberdi, accordion.
Series: II Music and Literature Evenings
Venue: Salon de Actos, Real Academia de Bellas Artes de San Fernando, Madrid.
Date: 9th June 2018,  12 h. 
Programm:
The hidden meaning: words inside music 
Works by Josquin Desprez, Joan Magrané (World Premiere), José María Sánchez-Verdú, Gabriel Erkoreka, Jesús Torres and Johann Sebastian Bach.